Roblox: DeepWoken - The Loop
Play Sound
Last Updated 1/4/22
A Potion is an item used to give special features to the Jammer or their den. All of the potions can be found in the Phantom Dimension by buying them for phantom tokens by the Salesman or Merchant and/or feeding the Giant Phantom with paintseeds. Paintseeds are obtainable from a Paintseed tree.
The Potion trading feature was released on March 5th, 2019. The Potion buying feature was released on January 17th, 2020. Many people value these Potions differently. Potions became obtainable on May 1st, 2020 in the Daily Spin, but on June 3rd the Potion option on the Daily Spin was removed, and was replaced by a clothing and den item feature instead.
Note: The Super Sapphire Potion is obtainable through the Phantom Dimension. When activated, it drops 3 sapphires for everyone nearby to recieve 3 sapphires (the person who drops the potion also receives 3 sapphires.) Many Jammers like this potion because it drops Sapphires. This has led to high demand, so the worth may vary depending on the Jammer.
Note: There are many abbreviations for the potions. The Double Payout Potion is commonly abbreviated as "Double Pay" or "Payout"; Super Sapphire Potion as "Sapphire Potion", "Drop Potion", or simply "drop"; Become Your Pet Potion as "Pet Potion"; and sometimes when potion swapping, the word "Potion" is dropped completely, such as "Trading Disco for Glow". Rainbow Trail Potion can sometimes be called "Rainbow", and the Den Potions commonly go as "Den Snow", "Den Flower", or "Den Rain".
Special Potions
Double Payout Potion
Disco Potion
Super Sapphire Potion

10-20 Sapphires; Depends on Jammer
10-20 Sapphires; Depends on Jammer
75-175 Sapphires; Depends on Jammer
3 In Store Items; Depends on Item
3 In Store Items; Depends on Items
1 Good Weekly Member Gift;

Depends on Jammer
Become your Pet Potion
Glow Potion
Glow Potion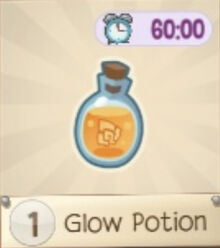 10-20 Sapphires
4-5 In Store Items; Depends on Item
Paintseed Launching Potion
Paintseed Launching Potion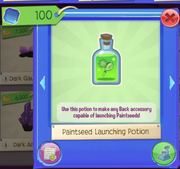 TBA; Depends on Jammer
TBA Sapphires; Depends on Jammer
Shrink Potion
Shrink Potion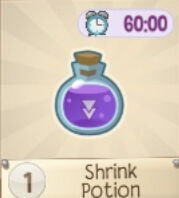 20-40 Sapphires; Depends on Jammer
3 In Store Items; Depends on Item
Rainbow Trail Potion
Speed Potion
Speed Potion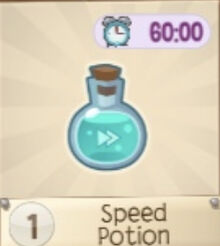 10-20 Sapphires
2 In Store Items; Depends on Item
Den Potions