Roblox: DeepWoken - The Loop
Play Sound
Last Updated: 7/8/21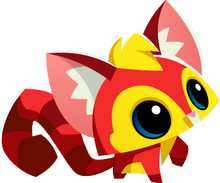 The Pet Sugar Glider was originally released in June 2017 at Claws 'N Paws and at the Sapphire Shop for 50 sapphires. It was removed in February 2018. It is commonly referred as "Pet Glider", "Glider", or "Rare Glider" by many Jammers as an abbreviation. Its default appearance features a semi-circle-shaped head which is larger than its body, a tuft of fur between its oversized ears, stubby legs, and a fluffy curled striped tail banded with darker stripes. The original variant of the pet earned a "Rare!" tag on July 1st, 2021. When referring to a non-token Pet Sugar Glider, Jammers may add "Rare" before saying "Pet Sugar Glider."
Note: Depending on its color, the Pet Sugar Glider will go for more or less than the worth listed below.
Note: Uncommon and Natural colors consist and are not limited to sage, yellow, orange, light green, periwinkle, lavender, bright red, brown, light brown, peach, and creams.
Note: Solid gliders typically go for more than listed; Depends on Jammer's preference.
Note: The Level does not affect a Pet Sugar Glider's worth.
Note: There are 2 variations of the default Pet Sugar Glider. These are worth less than other variants; do not get scammed.
Note: Using a pet token, you may obtain a randomized variant of the Pet Sugar Glider. Watch out for the differences - the original will always have a "Rare!" tag and never have a pet token icon on the left.
Note: Pet Sugar Gliders with a pet token icon do not follow the same eye type rarity; Do not get scammed.
Note: Pet Adoption Tokens make gliders easier to obtain. As a result, the worth of original gliders have decreased in demand and slightly in worth, especially X eyes and Semi-Circle eyes.
Note: Token gliders do not have the same worth as the original gliders because they are obtainable through the Pet Adoption Tokens.
Default
| | |
| --- | --- |
| Default Colored with Lowest Eyes (Older variant - mid-late 2017) | Default Colored with Lowest Eyes (Newer variant - late 2017 to early 2018) |
| | |
| Add Decent for Good Rare Furry Arm Cuffs; May Go for More or Less; Depends on Jammer (Base Worth) | Lowest Rare Furry Arm Cuffs; May Go for More or Less; Depends on Jammer |
| 3,000-5,000 Sapphires; May go for Less; Depends on Jammer | 2,000-5,000 Sapphires; May go for Less; Depends on Jammer |
Pet Toys