Last Updated: 7/8/21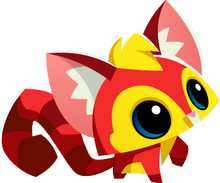 The Pet Sugar Glider was originally released in June 2017 at Claws 'N Paws and at the Sapphire Shop for 50 sapphires. It was later removed in February 2018, after a sale of 35 sapphires. It is commonly referred as "Pet Glider", "Glider", or "Rare Glider" by many Jammers as an abbreviation. Its appearance features a semi-circle-shaped head which is larger than its body, a tuft of fur between its oversized ears, stubby legs, and a fluffy curled striped tail banded with darker stripes. The original variant of the pet earned a "Rare!" tag on July 1st, 2021. When referring to a non-token Pet Sugar Glider, Jammers may add "Rare" before saying "Pet Sugar Glider."
Note: Do not confuse Semi-Circle Eyes with Round Eyes.
Note: Depending on color, the Pet Sugar Glider will go for more or less than the worth listed below.
Note: Uncommon and Natural colors consist and are not limited to sage, yellow, orange, light green, periwinkle, lavender, bright red, brown, light brown, peach, and creams.
Note: Solid gliders typically go for more than listed; Depends on Jammer.
Note: Level does not effect the Pet Sugar Gliders worth.
Note: There are 2 variations of the default Pet Sugar Glider. These are worth less than other variants. Do not get scammed.
Note: Using a pet token, you may obtain a randomized variant of the Pet Sugar Glider. Watch out for the differences- the original will always have a "Rare!" tag and never have a pet token icon on the left.
Note: Pet Sugar Gliders with a pet token icon do not follow the same eye type rarity. Do not get scammed.
Note: Pet Adoption Tokens make gliders easier to obtain, the worth of original gliders have decreased in demand and slightly in worth, especially X eyes and Semi-Circle eyes.
Note: Token gliders do not have the same worth as original gliders because they are obtainable through the Pet Adoption Token
Default
| | |
| --- | --- |
| Default Colored with Lowest Eyes (older variant - mid-late 2017) | Default Colored with Lowest Eyes (newer variant - late 2017 to early 2018) |
| | |
| Add Decent for Good Rare Furry Arm Cuffs; May Go for More or Less; Depends on Jammer (Base Worth) | Lowest Rare Furry Arm Cuffs; May Go for More or Less; Depends on Jammer |
| 3,000 Sapphires; May go for Less; Depends on Jammer | 2,000 Sapphires; May go for Less; Depends on Jammer |