Last Updated 4/7/20
The Jamaaliday Wings were released in December 2015 at Jam Mart Clothing and were removed later that month.
Note: Every year around December, people often create false rumors or scams, saying that this item will soon return to the stores. These rumors are often false and are used as a trick to get you to overtrade for an item, or even try to get you to sell them, and get a better color when they're "back in stores".
Not to be confused with Rare Dragon Wings or the Freedom Wings
Original Variant
The Rare Jamaaliday Wings was one of the wings obtainable by trading Jamaaliday Wings to Leilani in Moku'ahi. The deal was only available for 24 hours.
Rare Jamaaliday Wings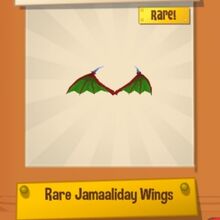 Jamaaliday Wings + Good Adds; Depends On Jammer